Restaurateur et Traiteur
Les mois d'hiver de cette cinquième année d'activité à l'Incubateur de production maraîchère biologique de Coaticook nous ont permis de travailler à la planification de la saison dont l'offre en légumes et en fines herbes peut vous être transmise sur demande. Les journées estivales du mois de mai pourrait devancer plusieurs cultures du "Calendrier des disponibilités
"
.
La
Sélection de la semaine
est envoyé aux restaurateurs/traiteurs tentés par l'expérience de nos produits maraîchers. Notre première offre sera envoyée dans la semaine de la fête du Canada.
Contactez-nous
pour plus d'information.
The winter months of the fifth year of activity for organic gardening at the Incubator in Coaticook allowed us to work on the planning of the season which provides vegetables and fine herbs that can be provided to you on request. The summer days in May could overtake several cultures on the "Availability calendar".The Selection of the week will be sent to restaurateurs / caterers tempted by the experience of our garden products. Our first offer will be sent in the week of Canada Day.
Contact us
for more information.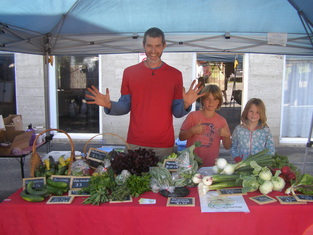 Marchés Publics/ Farmers market
Chaque semaine, vous pourrez être au courant sur Facebook de notre offre dans les Marchés publics où nous participons.
Weekly we will post on our Facebook our offer and which market(s) we participate.
Lennoxville
Les samedis/saturdays
Heures/hours:10:00-13:00
Lieu/place: Lennoxville, 169
rue Queen, stationnement du Provigo
/ Provigo parking lot
Georgeville
Les samedis/saturdays
Heures/hours:10:00-12:00
Lieu/place:Carre Copp
Compton
Tous les jeudis, du 21 juin au 20 septembre
Heures: de 16h00 à 19h00/18h00
Lieu: village de Compton, dans le parc de Lions de Compton
Every Thursday from June 21th until Septembre 20
Hour : 16.00 – 19.00/18.00
Place : Compton village, in Lions parc of Compton
Paniers de légumes & fines herbes biologiques
---